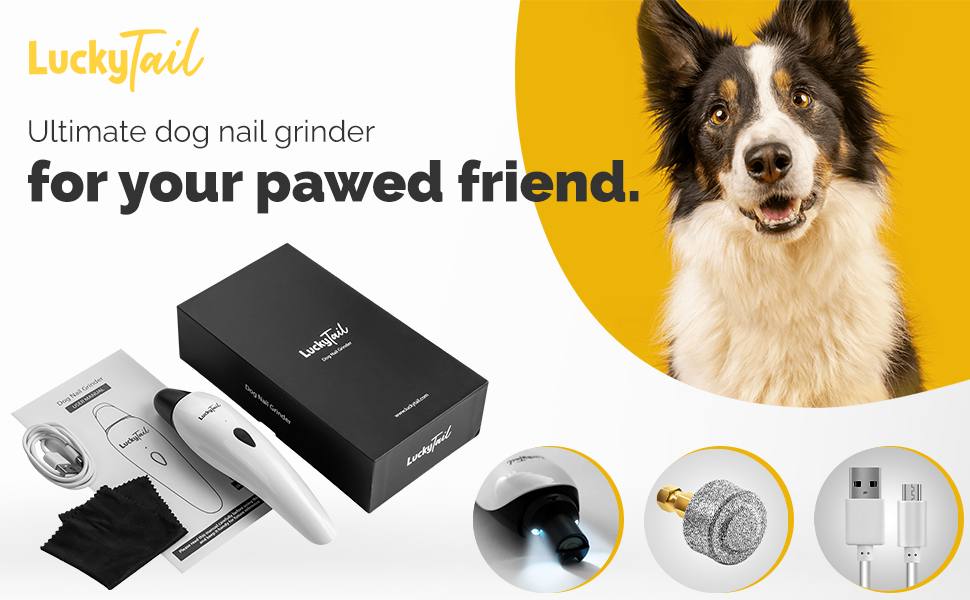 Having a furry friend…an absolute blessing. The grooming part…not so much! Every pet owner out there knows how difficult it can be to trim the nails of their companion. 
Did you know that dogs' nails grow even faster than humans? Trimming/grinding nails not only requires precision but there's also a chance that you may hurt your pet if you lack the right tool. 
In order to help you out, today we will be reviewing a fantastic product: LuckyTail Nail Grinder – The one-stop solution to all your pet's grooming needs. 
Let's get started! 
LuckyTail Nail Grinder: At a Glance 
Product name 
LuckyTail Nail Grinder 
Conventional Nail Grinders 
Speed modes 
2 
–
Charging time
1 hour
Require AA batteries 
Battery life
Upto 4 hours*
–
Vibration 
Vibration/Buzz free
Yes
Noise level
30/50 Db
100-110 Db
Body 
Pet-friendly ABS-plastic body
Pet-friendly ABS-plastic body
Warranty 
1-year warranty, 30-day money-back guarantee 
Key highlights 
Detachable grinding wheel In-built LED lights Safety cover Variable speed modes USB rechargeable 
Check it out here
Click here
About LuckyTail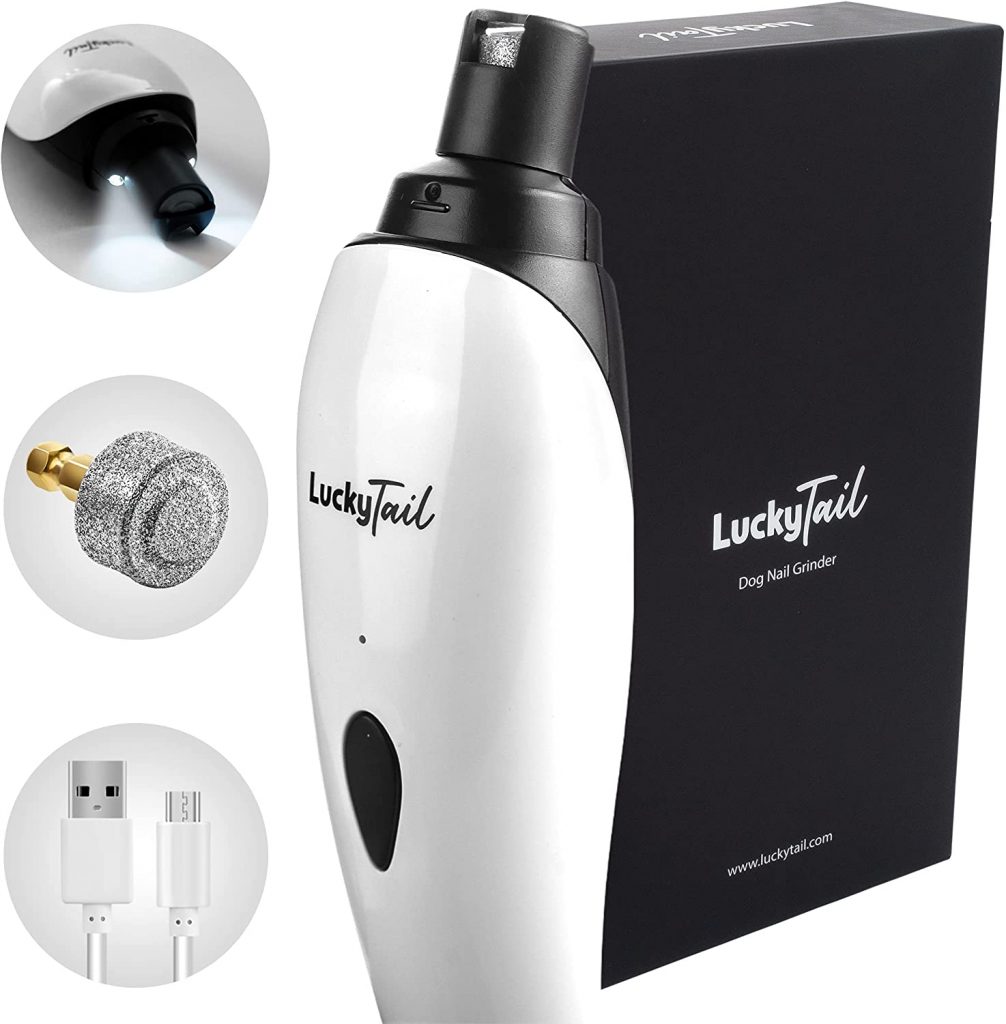 LuckyTail is a brand that provides premium quality pet care products at a reasonable price. Designed in the USA, their products are built-to-last and are known for their longevity and performance. They have a range of nail grinders, grinding heads, and dog nail clippers which are all highly rated throughout the internet. 
In-depth review
Contrary to nail clippers which typically scare your pets away, nail grinders have become a standard now. We tested each and every aspect of the LuckyTail nail grinder. Here's how it performed: 
Design 
Kicking things off with the packaging, this device comes in a black box that looks somewhat premium in itself. It includes a wiping cloth, a USB charging cable, a user manual and the device itself. 
Since its outer shell is made up of durable ABS plastic, you don't have to worry about accidental drops. This nail grinder is ergonomically designed and provides a comfortable grip too. 
Battery life 
Unlike most battery-operated grinders and even cordless ones, this one delivers impeccable battery performance. In fact, it over-delivers! Aside from being cordless, it also comes equipped with a USB cable for charging. 
It takes around 45 minutes to an hour to fully charge and can last for about 5 hours on low-speed mode. On the higher speed setting, it lasted for about 3.5 hours, which is still impressive. 
Since it has USB support, you can simply charge it using the same cable you charge your mobile phone with; no need to carry any extra cables! 
Speed modes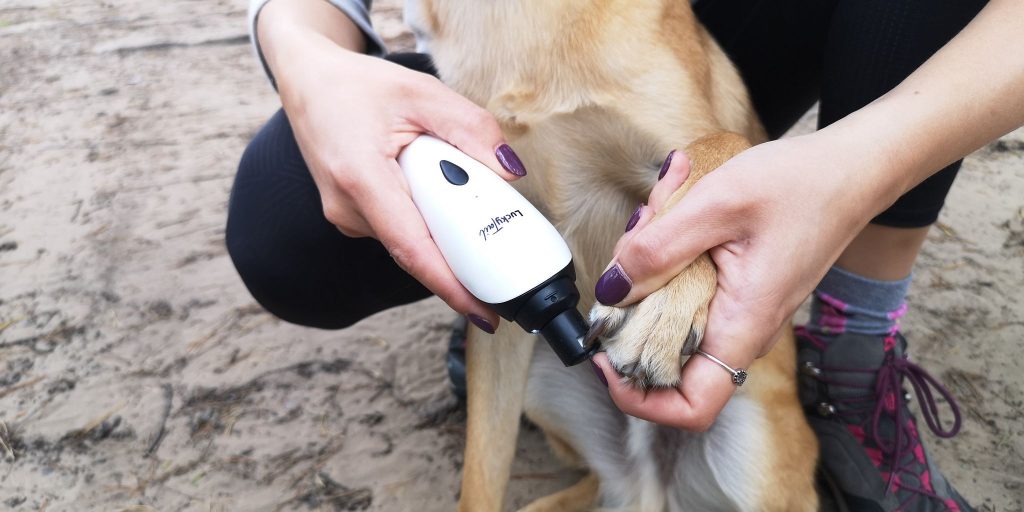 Every dog needs a different pace. This is especially true in the case of puppies, which are easily frightened. The LuckyTail features two different speed settings, which makes it ideal for puppies of all ages. The grinder rotates at around 7000-9000 rpm, which helps it cut through nails effortlessly. 
Another helpful feature that the brand has added is the in-built LED lights which enhance visibility significantly and ensure that you do not harm your pet in any way. 
The advanced mini-motor inside this device is incredibly refined and has almost negligible vibrations. 
Additional features 
Aside from the main features, LuckyTail has also loaded this product with plenty of smart options. Some of them are:
Port size 
Port size is what will determine how much of the machine's head will be exposed. In the case of a small-sized dog, partially showing the head will work, whereas, for full-sized dogs, the entire head will be exposed. 
Replaceable heads 
LuckyTail features multiple grinding heads designed for specific use cases. 
| | |
| --- | --- |
| Regular  | Lasts 2-4 months, ideal for weekly grooming |
| Super soft | Ideal for small puppies and helps deliver a smooth finish |
| Extra hard | It comes with a coarse texture which makes it apt for harder surfaces |
Protective cap
The protective cap on top ensures that no animal gets harmed during its application. You can even clean this grinder by removing the cap from the top, just like a pen and wiping all the dust left behind. 
Buy lucky tail's super value combo and save up to 50%. Click here! 
Using the LuckyTail Nail Grinder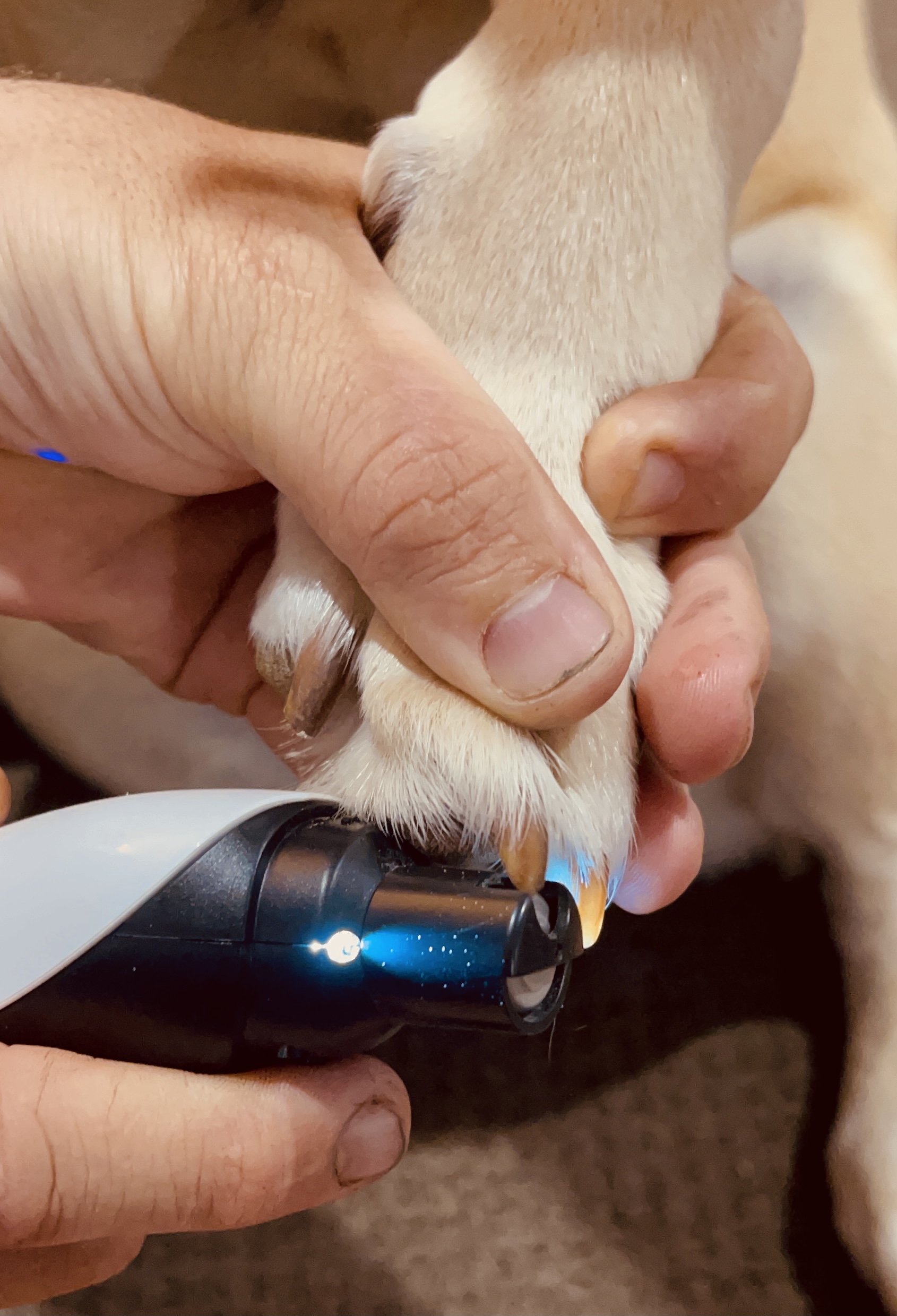 Using this Vet-approved nail grinder is fairly easy. It can be operated with just a simple on/off switch. All you need to do is set the port size depending upon the nail length, choose the corresponding nailhead, and get grinding. 
LuckyTail also has a video tutorial on their website on how to use it. Here is a brief overview of the process : 
First, allow your dog to get accustomed to the product by letting him sniff it. Do this while gently touching the paws & nails of your dog so that they become comfortable with that. Some owners even keep a few treats handy if their puppy gets anxious easily. 
Then place the sanding head of the nail grinder near your dog's nails without switching it on. This gives your dog a feeling that the device poses no harm. Repeat this for 3-4 days until your dog becomes completely relaxed. 
Choose a speed for the sanding drum and place your dog's nails into the grinding hole. Remember: Pressing the button one time will turn on the device at low-speed mode. Pressing it again will upshift the speed, whereas pressing it a third time will turn it off. 
Grind for about 4-5 seconds, depending upon the length of your pet's nail. Once you are done, shower your pup with some treats for the good boy/girl they have been 😀
Do not forget to clean the head once in a while. You can do this with the protective cloth that comes in the package. 
Frequently Asked Questions 
Nail Clipping Vs. Nail Grinding: What Is Better? 
Every dog has their own preference when it comes to this. Some have a good demeanor and do well with both nail clippers and grinders, whereas some stray away just hearing the buzzing noise of a nail clipper. 
In the case of LuckyTail, though, since there is almost no noise, you will have nothing to worry about. 
How Often Should I Dremel My Dog's Nails? 
3 to 4 weeks is a sweet spot when it comes to nail clipping/grinding. Leaving your dog's nails unattended for a long time can lead to painful ingrown nails and myriad health issues for your pet. 
How Do You Know When to Stop Grinding Dog Nails? 
There is no set time for all dog breeds as it depends largely on the thickness and the length of the nail you are dealing with. As a general rule of thumb, though, you should stop when the pointed tip becomes a straight and smooth line. 
Check Out Customer Reviews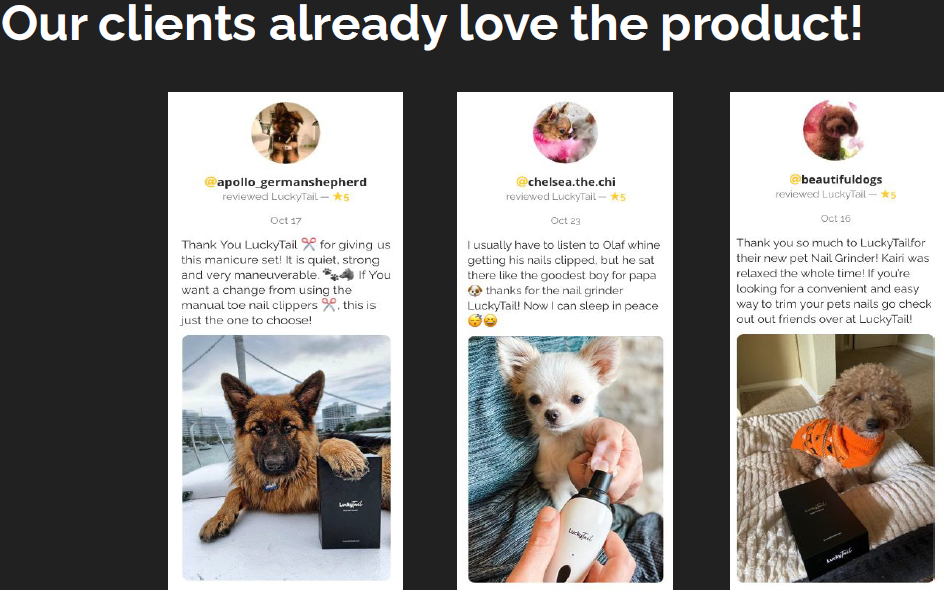 Personal Experience in Using the Product
Final Verdict 
LuckyTail Nail Grinder is 100% worth it and excellent at what it does. Its easily operational buttons and long-lasting battery make it possible for all pet owners to groom their little ones without having to run to a professional every time they need to get their dog's nails trimmed. 
All you need to care about is cleaning the head every once in a while, and this product should last you quite a while. We hope you found this review helpful. 
Thanks for reading. Happy petting!