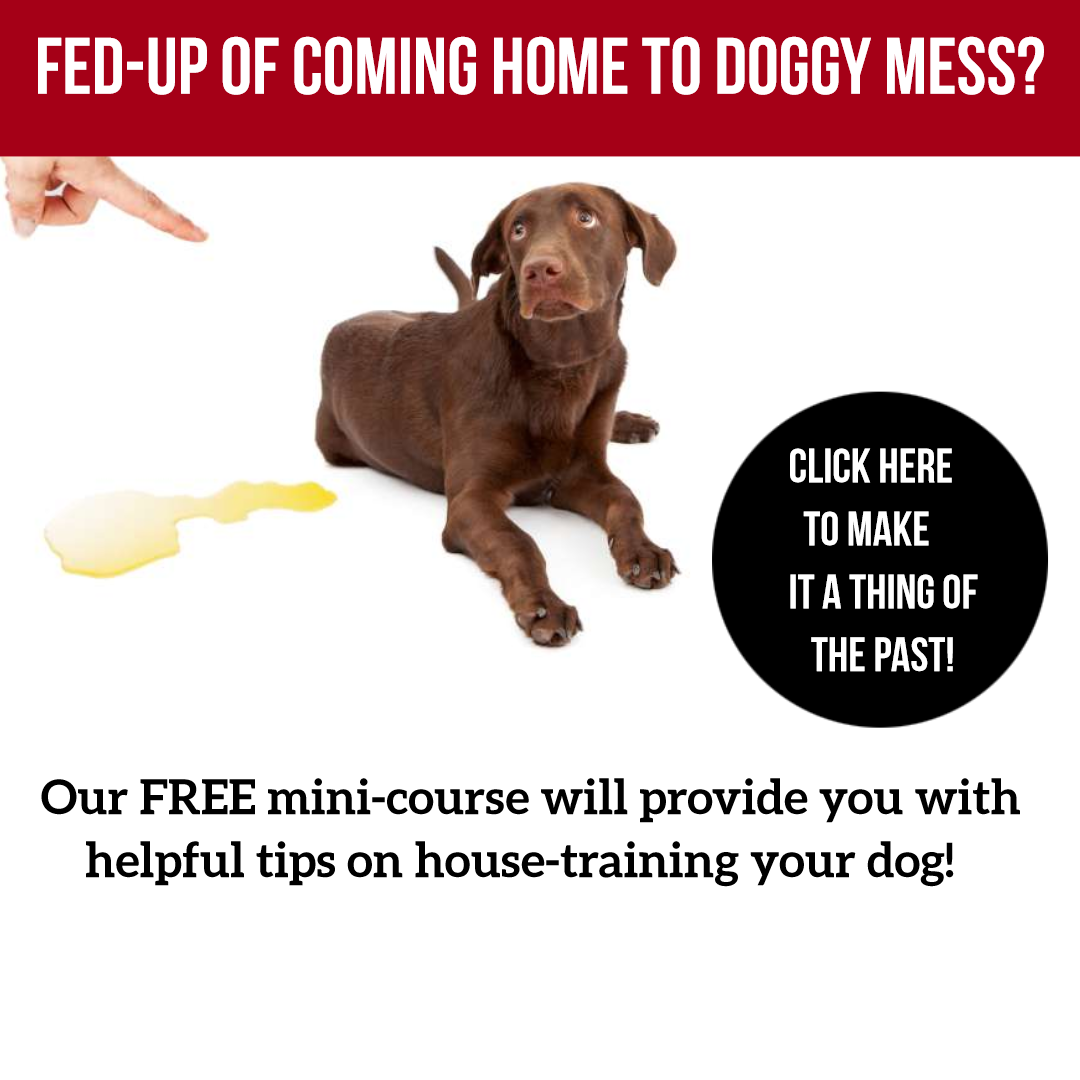 If you bring a dog home, no matter what their age and they are not house-trained, you need to dedicate time and patience to teaching them where it is acceptable to toilet.
This article provides some excellent tips and advice on house-training your dog, regardless of their age.
Puppy potty training is the bane of many new dog parents. That is why there are so many tutorials on how to house train a dog, with promises of how it can be simple and effortless.
The fact though, is that potty training requires time, patience, and consistency. How simple or difficult it is, will depend on our dog's temperament and our own temperament.
House training is usually the first dog training challenge we must face.
Puppy potty training also depends a lot on us. If we are naturally calm, consistent, and patient, housebreaking will seem easier and require less work.
Whatever the case, always remember that we can successfully house train a physically healthy dog, at whatever age (after the weaning off process), no matter the history.
1. Set Up a Schedule
Puppy potty training begins, by setting up a schedule. Initially, we want to bring our dog out often, and reduce the chances of her making mistakes inside the house.
I observe my puppy closely, and try to identify patterns in her potty behavior. For example, she usually has to go when she wakes up, and after a bit of vigorous play. Therefore, I took her out after nap-time and after every 10-15 minutes of play. Different dogs may have different patterns depending on size, temperament, routine, and more.
I stop giving her water about 2-3 hours before sleep time, and take her out right before I crate her for the night. If I need to reward her during that time, I only use moist dog treats such as boiled chicken, so that she does not get thirsty from them.
Fact – Dogs learn through a process called conditioning. They repeat behaviors that get them good results and stop behaviors that get them bad results.
The more we reward a puppy for eliminating outside, the more she will repeat that behavior. When my puppy does her business in the backyard, I mark that behavior (Yes!). Once she finishes, I treat her with something special that she only gets for potty success, and give her some good affection. Then, I reward her more with play-time and her favorite activities.
Similarly, the more a puppy practices eliminating inside, on her own, the more she will go in the house. After all, it is convenient and nobody is teaching her that it is inappropriate behavior.
Therefore, we want to not only maximize the number of successes, but also minimize the number of mistakes. In this way, our puppy will learn that doing her business outside is extremely rewarding and fun. On the other hand, when she does it inside, she consistently gets interrupted and taken outside.
The more we reward a puppy for eliminating outside, the more she will repeat the behavior.
2. Prevent Potty Mistakes
There are three ways to prevent mistakes inside the house:
a) Be there to supervise.
When our puppy shows signs that she has to go potty, take her outside right away. If I do not catch my puppy in time and she starts to do her business, then I interrupt her with a no-mark (Ack, ack) and take her outside.
Dogs will only learn when we catch them in the act.
If we are not around and our dog makes a mistake, then we have missed a learning opportunity. All we can do is clean up the mess and move on. It is true that a dog may look sheepish when we shout at her after the fact. This is because she knows that we are upset, so she uses submissive gestures (e.g. putting her head down) to try and appease us.
The dog does not know what particular event has caused our anger, but just that we are angry. Shouting and rubbing a dog's nose in her own waste does not teach her anything. All it does is confuse our dog, as well as create stress and fear. This can make things worse by causing submissive urination.
b) Crate train our dog.
Dogs do not generally like to soil where they sleep. Keeping our puppy in a crate can discourage her from pottying because she does not want to soil her sleeping area.
The crate is not some magical cure. A crate discourages a dog from eliminating, but if a dog absolutely has to go, she has to go.
Keeping a puppy for too long in a crate, will force her to potty in the crate, possibly traumatize her, and greatly set back our potty training program.
At night, I crate my dogs in the bedroom. Keeping our dogs with us in the bedroom will help with the bonding process, and show them that they are part of the pack.
When puppies are really young, they may not be able to hold their bladder throughout the night. It may be necessary to make an extra trip outside at night, or really early in the morning. Once they get a bit older though, this will no longer be necessary.
Some puppies, e.g. pet store puppies, may already be conditioned to eliminate in their crate, because they are kept in there for overly long periods of time. In such cases, a crate will no longer be a deterrent to potty behavior.
Yes, it is true that if we can be around most of the time to supervise, it is better not to let a puppy do her business in the house at all.
However, if we will be away for long periods of time, if our dog has separation anxiety issues (which may cause her to need to eliminate when we leave), or if there are other medical issues (surgery) that make frequent trips outside unfeasible, then it is perfectly fine to train a dog to both potty on pads, as well as outside.
Reward a puppy for going on his pads, and reward a puppy a lot more for going outside.
3. Clean Away Mistakes Properly
During the house training process, there will be some mistakes. When that happens, I calmly no-mark my puppy (Ack, ack) and take her outside. Once we are outside, I praise and reward her if she continues with her business.
Then, I leave my puppy in our fully enclosed and puppy-safe backyard, come in, and clean up the mess. Cleaning up messes in front of a puppy may sometimes cause her to mimic our behavior, and engage in eating her own poop. In her mind, she is only helping to clean out the den.
Use a cleaner that is made especially for pets. A popular pet odor cleaner is Nature's Miracle.
Do not use ammonia based cleaners as the ammonia odor, which resembles urine, may attract our dog to urinate in the area.
4. Make Sure the Mistakes Are Potty Mistakes
Not all indoor urination is the result of house training mistakes. Other reasons for indoor urination include:
Submissive or excitement urination.
Medical issues, e.g. urinary tract infection.
Marking objects or territory.
Stress or anxiety, which results from being alone or other psychological issues.
via Puppy Potty Training – Facts and Myths
We hope you have enjoyed this article – if you are having any specific issues with house-training your dog, do not hesitate to reach out to us and we will do our best to help!
A New Free Course on Dog Grooming Reveals the Secret Step-by-Step Techniques used by the best Dog Groomers in the country!
Finally, You Can Now Groom your Dog on your own at home without having to hire an expensive groomer!
Dog Food, Supplements & Health Products